Home Performance Package by Clear Efficiency
What is the best combination of incentives, rebates, and financing terms that will save you the most money and get you the highest return on investment?
Solar, Insulation, and HVAC Package
The Clear Efficiency Home Performance Package starts with utilizing Solar and backup battery storage to get you the 30% federal tax credits on the total contract amount.  This also gets you access to the best financing terms available with interest as low as 2.99% for up to 25 years, and you only need to have a 600 credit score to qualify. The loan is transferable to the next homeowner so you only pay for what you use.
These financing terms can also be used for upgrading your insulation and converting your HVAC from gas to electric keeping your overall payment as low as possible, in some cases maybe even lower than your current utility bills at today's rates.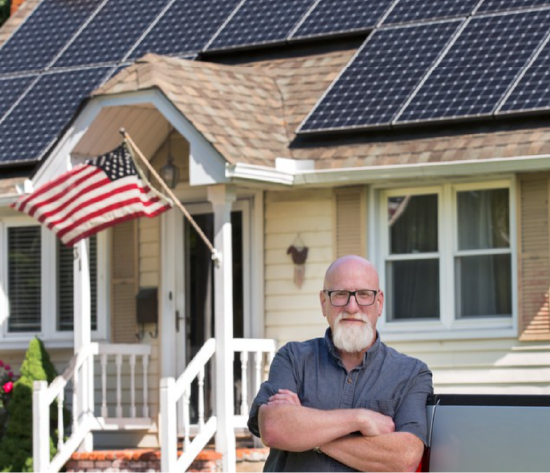 Regain control of your homes Comfort
Now that you are back in control of your home's energy costs with solar and the best financing terms it's time to increase your comfort with our Airsulate™ Insulation System that qualifies for a $3,000 instant utility paid rebate.
Whole-home electrification is how new homes are being built starting in 2023 and right now there are instant utility paid rebates up to $4,800 to convert your gas HVAC to a high-efficiency variable-speed electric heat pump that is powered by your solar.
In summary, you get a 30% tax credit on the contract amount, up to $7,800 in instant rebates, and one low fixed payment at 2.99% interest. The next time you see the weather forecast you won't go anywhere near your thermostat because you know that your family will be comfortable right where it's set, without any more surprise utility bills.
There has never been a better blend of incentives and interest rates to massively transform your home's comfort while keeping your payments fixed with an interest rate way lower than inflation.  Connect with us and get the information you need now before these rebates and incentives disappear.
Here is a list of all Available Rebates and tax credits:
$3000 Instant Utility paid Rebate to air seal and insulate your attic
Solar $1,000 and $300 Rebate
Solar + Battery Storage $1,500 Rebate
$1,000 Utility Rebate for Replacement Windows
50% off your attic insulation utility paid rebate up to $1,500
50% off your wall insulation utility paid rebate up to $1,500
Back-up Battery Storage $13,000 to $26,000 Rebate
Solar Federal Tax Credits $2,600 to $14,371
$500 Federal Tax Credit for Windows and Insulation
$3000 Instant Utility paid Rebate to convert gas HVAC to electric
$2500 Instant Utility paid Rebate to upgrade electrical panel
Net Metering so solar will turn your meter backward
Take the survey to see what you can qualify for while these funds are still available!
Long-Term Solutions That Will Benefit Your Home and Wallet
As a homeowner, you deserve to be in control of your house's comfort and energy costs.
However, there's a problem. If you set your thermostat where you want, you may be surprised with a ridiculous utility bill.
You have worked too hard to earn your independence just to let the utility bills make decisions for you.
You don't have to sacrifice your family's comfort because you're not sure if upgrading your home's energy efficiency will be worth it. You have earned the right to be in control of your energy bills and live comfortably in your own home!
Experience, Quality, and Service You Can Trust
As an elite Pearl Certified Contractor, Clear Efficiency has met stringent requirements for Workmanship quality, Installation expertise, and Customer service.
We proudly received the Angie's List Super Service Award in 2019, 2020, and 2021 for all grade "A" reviews from our clients.  We have a 5-star rating on Google and Yelp and have many glowing testimonials from clients who got precisely the results they hoped for and deserved.
I had insulation blown into attic and new windows installed by Clear Efficiency. Craftsmanship was impeccable and am more than happy with the final product. Our house is warmer and the windows and slider look great. Jesse (owner) truly cares about his customers and would recommend him to anyone. I look forward to having more projects done by Clear Efficiency.
On a 1 to 5 scale it was a 5+. Jesse the president delivered on Everything he promised. Jesse is very knowledgeable in his field and is using the latest technology to create the most efficient system with out wasted time or expenses. Jesse is a strong communicator and follows up very quickly. A genuine nice guy.